Automatic Clip Chopping with Follow Actions
Here's a way to randomly chop up drum samples (while making them stay in beat) in Live.
From the manual: Follow Actions allow creating chains of clips that can trigger each other in an orderly or random way (or both).
1) Drag a bunch of warped drum samples into Live onto one track, and select them all (Command-A)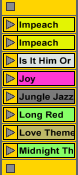 2) Down below, in the Clip View (you may have to press Shift-Tab to get there if you are currently looking at Effects/Devices) make sure the Launch settings view is open by pressing the L button.

3) Now let's set the Follow Action time to 1/16th note (which means something will happen every 16th note)

4) Now we'll the Follow Action for all clips to "Other" — this means that, after 1/16th note, any other clip on the track will be launched (Note that Follow Actions only work on Clips on a track touching each other).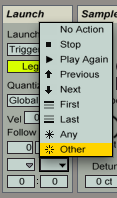 5) If you triggered a clip above (don't yet), you'd hear the first 16th of each clip randomly played back. But we don't want just the first beat, we want each clip to take over the play position from whatever clip was played in that track before. To do this we press the Legato button.

You also want to set the samples to RAM (meaning they are loaded in your computers RAM so you don't get dropouts).
Here's a track that uses this technique:
Audio clip: Adobe Flash Player (version 9 or above) is required to play this audio clip. Download the latest version here. You also need to have JavaScript enabled in your browser.
If you want to record this into arrangement view, just press the Global Record button up top.
Jethroe