Side a: Porno Mustache (mp3, LivePack) (Right-click and save-as to download)

This track is from Adult Situations, featuring Motion Man and Lyrical C. If you haven't see the video, trust me, check it out (and you probably should buy the album too). I've included the multitrack as an Ableton LivePack. Bass originally done with Arturia's Minimoog plugin, and the bells with Applied Acoustic's Tassman. No samples were harmed in the making of this track…Jethroe: bass, guitar, guitar, keys drum programming.

Side B: Porno Mustache Remix (mp3) (Right-click and save-as to download)

The remix also features production from Unagi, and was closer to what we wanted, but Motion and LC convinced us to stick with the nasty simplicity of the original.
We'll have a few remixes coming soon…let me know if you'd like to submit a remix too.

---
Adult Situations is released!
My man Unagi and I produced this one for Motion Man. Funky, 90s style hip-hop, lots of love jams and innuendo as only Motion Man can spin it. We're going to have some stems available as Ableton Live Sets soon. The dope cover art work was done by my brother the Urban Yetti.
You can listen to samples, buy the download or digipack here.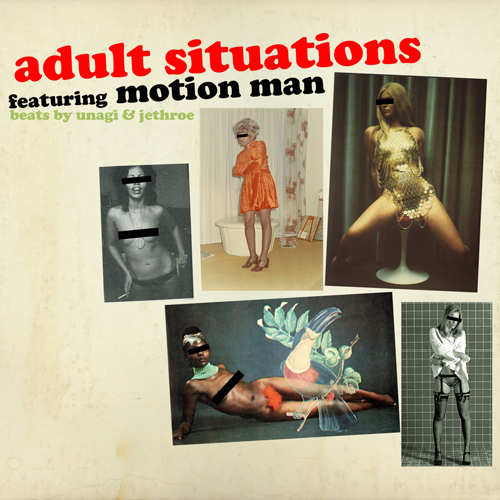 ---