Right click and save to download here. Ableton FX rack gives you some dirty dub sounds: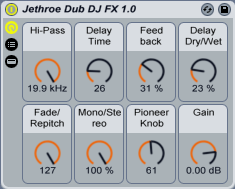 Hi-Pass: Takes some of the high frequencies out
Delay Time: Changes time of the delay. Note that this will act differently depending on the Fade/Repitch setting.
Feedback: how long the delay will continue to echo Delay
Wet/Dry: The mix between the original and delayed signal.
Fade/Repitch: This will switch between repitch: old school dub delay sound, i.e. when you change the delay time the pitch also changes, or fade, where the pitch remains the same.Â
Mono/Stereo: How wide or narrow the stereo field is
Pioneer Knob: A single knob filter similar to Pioneer mixers, turn to the right for low pass, to the left for high pass.
Gain: Volume
Enjoy. Add your DJ FX requests in the comments field, I'll be making a bunch more soon. Jethroe
Edit: as my man Dennis Fischer points out, it is a lo-pass, not a high pass – doh!
---
---