Adult Situations is released!
My man Unagi and I produced this one for Motion Man. Funky, 90s style hip-hop, lots of love jams and innuendo as only Motion Man can spin it. We're going to have some stems available as Ableton Live Sets soon. The dope cover art work was done by my brother the Urban Yetti.
You can listen to samples, buy the download or digipack here.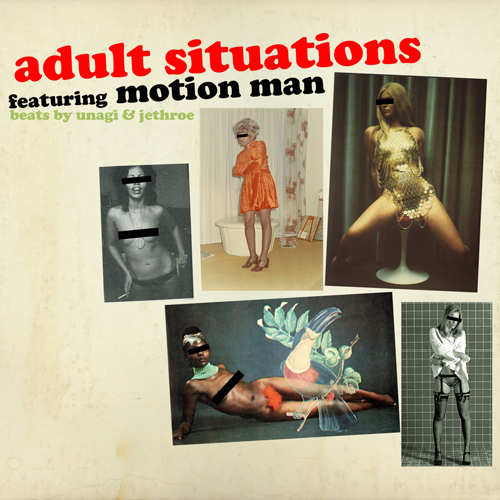 ---
Eddie Hazel "California Dreaming",
Curtis Mayfield "Cannot Find a Way"
Augustus Pablo "(?)"
Isaac Hayes "A Few More Kisses to Go"
Redman "Tonights Da Night"
Mary Jane Girls "All Night Long"
Eddie Henderson "Inside You"
Brothers Johnson "Closer to the One that You Love"
Jethroe "Roomates"
Motion Man "You're the Woman"
Material "Reduction"
24 Carat Black "Ghetto Misfortunes Wealth"
Steely Dan "Green Earrings"
Mighty Ryeders "Evil Vibrations"
De La Soul "A Roller Skating Jam Named Saturdays"
Apparat "Arcadia"
Bad Brains "Leaving Babylon"
Blonde Redhead "Dr. Strangluv"
Carlos Santana/John McLaughlin "The Life Divine"
---